Dear Readers,
If it's March, it's crunch time for me while I work on updating the American Immigration Lawyers Association's Practice and Procedures Manual (the "Cookbook") and trying to make the deadline hoping it will be ready for the annual AILA meeting in June. We're adding chapters on the H-2B visa, T visas and humanitarian parole to add to the 22 chapters and 3,200 pages in the 2022 edition.
The book has been one of the great challenges of my career but given the feedback my co-author and law partner Ari Sauer and I have received; it's made a big difference in the practices of lawyers across the country. Each one of the chapters covers a different immigration application type and it contains everything a lawyer needs to handle a case. A summary of the law, checklists, client questionnaire forms, eligibility advisors, templates, and sample government forms with question-by-question assistance.
One exciting thing I have been doing with the book is testing it with a bleeding-edge software called CoCounsel from the legal tech company Casetext. The product uses OpenAI's backbone (the company that is behind ChatGPT). I've uploaded the Cookbook into Casetext and I can now essentially ask questions about my book. I got to talk about my experience on MSNBC's Morning Joe along with the Casetext founders which was an unexpected treat. I then got to present the next day on AI and the future of law at the ABA Techshow in Chicago. A fun week to say the least.
The big firm news this past month was our certification as a women-owned business. Once we reached majority women's ownership, we decided to get certified. A long process with a lot of vetting, but we're proud to hold the status. A special thank you to my partners Elissa Taub and Lynn Susser who are killing it as two of the leaders of Siskind Susser.
As always, we invite you to schedule an appointment with one of our lawyers if we can ever assist with an immigration matter. Just go to www.visalaw.com/consultation.
Sincerely,
Greg Siskind
---
Ask Visa Law
Written by Robby Rubin
What are some of the differences between standard Humanitarian Parole, and the special Humanitarian Parole programs such as Uniting for Ukraine (U4U) and the Processes for Cubans, Haitians, Nicaraguans, and Venezuelans (CHNV)?
There are a number of differences, all of which could not be adequately covered here. The table below illustrates some the most notable differences: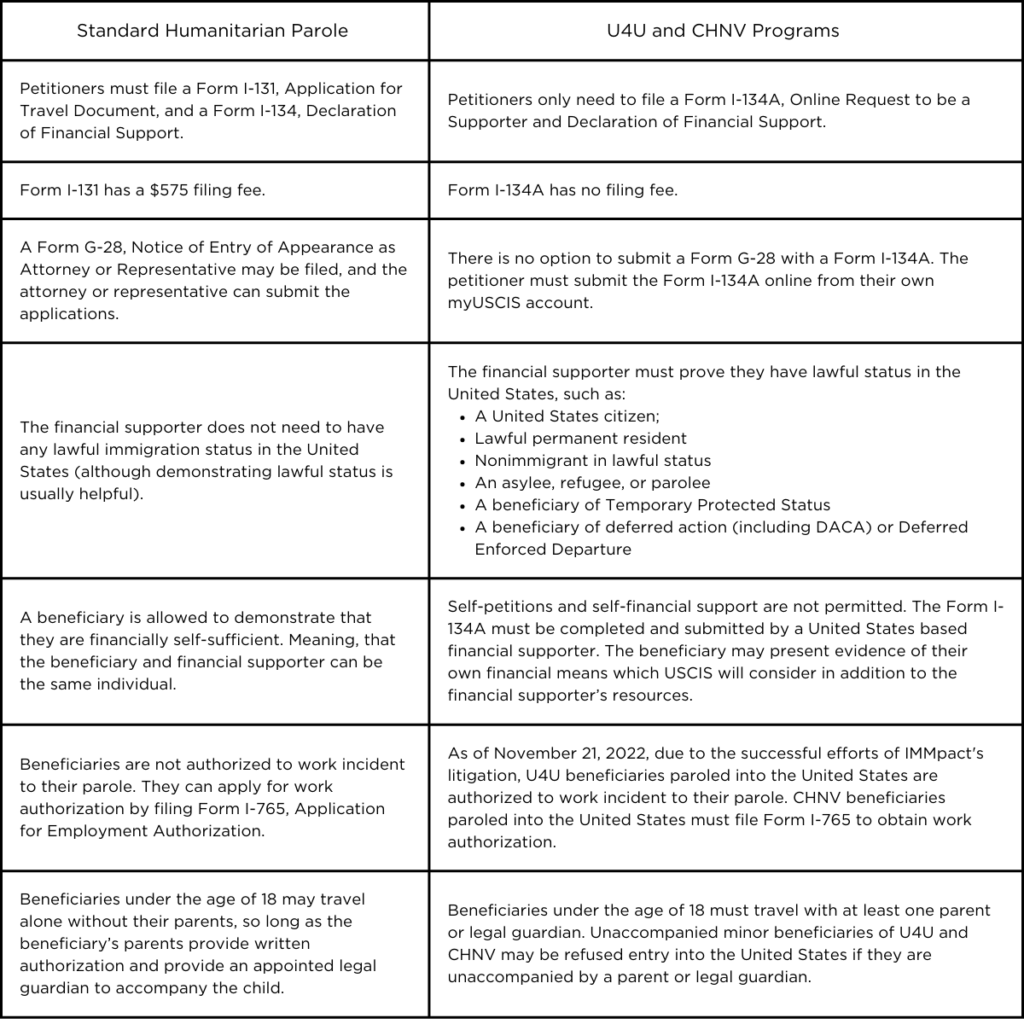 ---
In the News from ABIL
USCIS Reaches Cap for H-2B Additional Returning Worker Visas for First Half of FY 2023
U.S. Citizenship and Immigration Services has received enough petitions to reach the cap for the additional 18,216 H-2B visas made available for returning workers for the first half of fiscal year 2023 with start dates on or before March 31, 2023.
Green Cards and Employment Authorization Documents Redesigned
U.S. Citizenship and Immigration Services has begun issuing newly designed permanent resident cards (green cards) and employment authorization documents. Unless otherwise noted, current cards remain valid until their expiration dates.
USCIS Clarifies Physical Presence Guidance for Asylees and Refugees Applying for Adjustment of Status
U.S. Citizenship and Immigration Services has clarified that an asylee or refugee must have been physically present in the United States for one year when USCIS adjudicates the Form I-485, Application to Register Permanent Residence or Adjust Status, rather than when the adjustment of status application is filed.
DOJ Raises Penalties Against Employers for Immigration-Related Violations
Penalty ranges have been increased for the unlawful employment of immigrants, certain immigration-related paperwork violations, and unfair employment practices.
CBP Proposes Additional Passenger Travel Document Requirements for Air Carriers
U.S. Customs and Border Protection (CBP) proposes to amend its regulations to incorporate additional commercial air carrier requirements that would enable CBP to determine, before an aircraft's departure from the United States or from a foreign port or place, whether each passenger is traveling with valid, authentic travel documents before the passenger boards the aircraft.
Initial Registration for FY 2024 H-1B Cap Opens March 1
The initial registration period will run through noon ET on March 17, 2023.
Certain Asylum Applicants Can Now Apply for Work Authorization Online
Applicants for employment authorization under category (c)(8), Pending Asylum and Withholding of Removal Applicants and Applicants for Pending Asylum under the ABC Settlement Agreement, can now file Form I-765, Application for Work Authorization, online.
Green Card Validity Extended for Conditional Permanent Residents With a Pending I-751 or I-829
U.S. Citizenship and Immigration Services is extending the validity of green cards for petitioners who properly file Form I-751, Petition to Remove Conditions on Residence, or Form I-829, Petition by Investor to Remove Conditions on Permanent Resident Status, for 48 months beyond the card's expiration date.
DHS Announces Measures for Haitians in United States: TPS, Special Student Relief
The Department of Homeland Security announced several measures to provide relief for Haitians in the United States, including temporary protected status and special student relief.
President Biden Extends and Expands DED Eligibility for Certain Hong Kong Residents President Biden is extending Deferred Enforced Departure (DED) for an additional period of 24 months for residents of Hong Kong presently residing in the United States who were under a grant of DED until February 5, 2023, and is deferring enforced departure for other Hong Kong residents who arrived in the United States after the initial grant of DED, with several exceptions.
USCIS Extends COVID-19-Related Flexibilities Through March 23
U.S. Citizenship and Immigration Services is extending certain COVID-19-related flexibilities through March 23, 2023.
New Settlement Agreement Helps H-4 and L-2 Dependent Spouses
U.S. Citizenship and Immigration Services has returned to a pre-Trump administration policy of adjudicating Form I-539, Application to Extend/Change Nonimmigrant Status and Form I-765, Application for Employment Authorization for H-4 and L-2 derivatives, along with the underlying Form I-129, Petition for Nonimmigrant Worker, when these forms are filed concurrently.
Visa Bulletin for February 2023 Includes Retrogressions in the Employment Third Preference 'Other Workers' Category, and 'Certain Religious Workers' Availability
The Department of State's Visa Bulletin for February 2023 has been released.
HHS Issues Poverty Guidelines for 2023
The Department of Health and Human Services issued updated poverty income guidelines for 2023 to account for 2022's increase in prices as measured by the Consumer Price Index. The poverty guidelines are used as an eligibility criterion by a number of federal programs.
ICE Unintentionally Releases Information on 6,000 Noncitizens in Custody
U.S. Immigration and Customs Enforcement (ICE) announced that while performing routine website updates, it unintentionally posted a document on ICE.gov for about five hours that included names and other personally identifiable information (PII), along with immigration information, of approximately 6,000 noncitizens in ICE custody.
DOS Launches 'Welcome Corps' for Private Sponsorship of Refugees
The Department of State, in collaboration with the Department of Health and Human Services, announced the launch of "Welcome Corps," a new private sponsorship program to welcome refugees and support their resettlement and integration into the United States.
USCIS Provides Follow-Up Q&A on International Student Issues
U.S. Citizenship and Immigration Services provided questions and answers following a webinar presented by the Office of the Citizenship and Immigration Services Ombudsman on international student issues.
DHS Streamlines Deferred Action Process for Immigrant Workers Participating in Labor Enforcement Investigations
The Department of Homeland Security (DHS) announced on January 13, 2023, that noncitizen workers who are victims of or witnesses to a violation of labor rights can now access a streamlined and expedited deferred action request process.
Premium Processing To Expand for EB-1 and EB-2 Form I-140 Petitions and Certain Students and Exchange Visitors
U.S. Citizenship and Immigration Services is implementing the final phase of the premium processing expansion for Form I-140, Immigrant Petition for Alien Workers, under the EB-1 and EB-2 classifications. Also, in March and April, USCIS plans to expand premium processing to certain F-1 students and exchange visitors.
DHS Extends and Redesignates Somalia for TPS for 18 Months
DHS is extending temporary protected status (TPS) for Somalia for an additional 18 months, from March 18, 2023, through September 17, 2024. DHS also redesignated Somalia for TPS, allowing Somali nationals residing in the United States as of January 11, 2023, to apply.
Scheduling System for 'Safe, Orderly and Humane Border Processing' Goes Live
DHS announced that the new scheduling function in the CBP One™ mobile application is now live. Non-U.S. citizens located in Central or Northern Mexico who seek to travel to the United States may use U.S. Customs and Border Protection's app to submit information in advance and schedule an appointment to present themselves at certain southwest border land ports of entry.
Agencies Raise Penalties for Document Fraud and Employer Violations of the D-1, H-1B, H-2A, and H-2B Visa Programs
As required by the Inflation Adjustment Act, the Departments of Homeland Security and Labor have raised the amount of certain penalties.
Supreme Court Declines to Resurrect Trump-Era Public Charge Rule
On January 10, 2023, the Supreme Court declined to review a case, Cook County, Illinois v. Mayorkas, that sought to revive the Trump-era public charge rule.
DHS Makes Two Corrections to Proposed Fee Rule
DHS corrected two typos in fee amounts in the published version of its proposed fee rule.
State Dept. Plans Pilot to Allow Visa Renewals in United States for H and L Workers
The Department of State plans to launch a pilot program later this year to allow visa renewals in the United States for H and L nonimmigrant workers.
41K+ Individuals Denied Visas Under Trump-Era Travel Ban Can Reapply Without Paying a Fee, Court Says
A district court has ordered the U.S. government to provide relief to approximately 41,000 nonimmigrant visa applicants who were denied a waiver during the Trump administration's travel ban under Presidential Proclamation 9645 and who have not subsequently been granted a visa.
Biden Administration Expects Title 42 Will End in May
The Biden administration told the Supreme Court that "[a]bsent other relevant developments, the end of the public health emergency [PHE] will (among other consequences) terminate the Title 42 orders and moot this case." The Department of Health and Human Services is planning for the expiration of the PHE for COVID-19 "at the end of the day on May 11, 2023."
SAVE To Enable New Initial Verification Response
Systematic Alien Verification for Entitlements (SAVE) plans to enable a new initial verification response, "Unable to Create Case," on February 20, 2023. SAVE will provide this response when a user tries to submit a duplicate case via a web browser.
ETA Updates Allowable Charges and Reimbursements for H-2A and H-2B Workers
The Department of Labor's Employment and Training Administration has announced the annual updated dollar amount per day that H-2A employers may charge certain workers for providing meals, and the maximum and minimum rate per day at which H-2A and H-2B workers must be reimbursed for travel-related subsistence expenses.
USCIS Issues Documentation Reminder for Permanent Residence/Adjustment Applications U.S. Citizenship and Immigration Services issued a reminder to applicants to file all required initial evidence and supporting documentation listed under the Checklist of Required Initial Evidence heading when they file Form I-485, Application to Register Permanent Residence or Adjust Status.
E-Verify Recommends Timeframes to Resolve Certain Social Security Mismatches; Deadline is September 29, 2023
E-Verify recommends that employees with E-Verify Social Security Administration (SSA) Tentative Non confirmation mismatch cases falling within certain timeframes to visit their local SSA offices within preferred date ranges, and that all affected employees must visit SSA to resolve their mismatch by September 29, 2023.
Ninth Circuit Agrees to Rehear Temporary Protected Status Case
The U.S. Court of Appeals for the Ninth Circuit has agreed to rehear a case, Ramos v. Mayorkas, filed by temporary protected status (TPS) recipients and their children, thus granting at least a temporary reprieve to an estimated 300,000 affected TPS recipients.
Fourth Circuit Affirms Denial of Employer's Petition for Multinational Executive/Manager
The court noted that to establish whether an employee works or has worked in a managerial or executive role, the sponsoring employer must submit a detailed list of the job-related tasks the putative beneficiary performs or has performed; general or vague descriptions are insufficient.
United States, Mexico Sign MOU on Temporary Foreign Workers
The United States and Mexico have signed a memorandum of understanding "to strengthen protections for workers participating in temporary foreign worker programs," the Department of Labor reported.
Chief Administrative Hearing Officer Requests Amicus Briefs on Immigration-Related Document Fraud
The Justice Department has invited interested members of the public to file amicus curiae briefs on the question of whether the knowing use of a forged, counterfeit, altered, or falsely made document to obtain employment and complete the Form I-9 employment eligibility verification form constitutes a "continuing violation" for the duration of employment.
Biden Administration Proposes Controversial Rule on 'Temporary' Measures to Limit Asylum at Southwest Border
The Biden administration issued a new proposed rule that it called "temporary," which introduces a "rebuttable presumption of asylum ineligibility for certain noncitizens who neither avail themselves of a lawful, safe, and orderly pathway to the United States nor seek asylum or other protection in a country through which they travel."
USCIS Issues Clarifying Guidance for Individuals Authorized to Work Under Special Student Relief Provisions
U.S. Citizenship and Immigration Services has released policy guidance to clarify the validity period of employment authorization for F-1 nonimmigrant students experiencing severe economic hardship due to emergent circumstances (also known as special student relief (SSR)) who are authorized to work under the SSR provisions.
F and M Student Visas Can Be Issued Up To a Year in Advance, State Dept. Says
F and M student visas for new students now can be issued up to 365 days before the start date for a course of study. However, the student cannot enter the United States on a student visa more than 30 days before the start date.
DHS Extends Comment Period for Fee Rule; USCIS Releases Fact Sheet on Fee Waivers for Naturalization Applications
The Department of Homeland Security has extended by five days, to March 13, 2023, the comment period for a rule proposing to change the fee schedule for certain immigration benefits.
USCIS Requests Comments on Proposed Revision of Nonimmigrant Petition Based on a Blanket L Petition
U.S. Citizenship and Immigration Services seeks comments on a proposed revision of the nonimmigrant petition based on a blanket L intracompany transferee petition. 
---
State Department Visa Bulletin
To view the March 2023 Visa Bulletin from the State Department: click here.